Preparing the Rhubarb Filling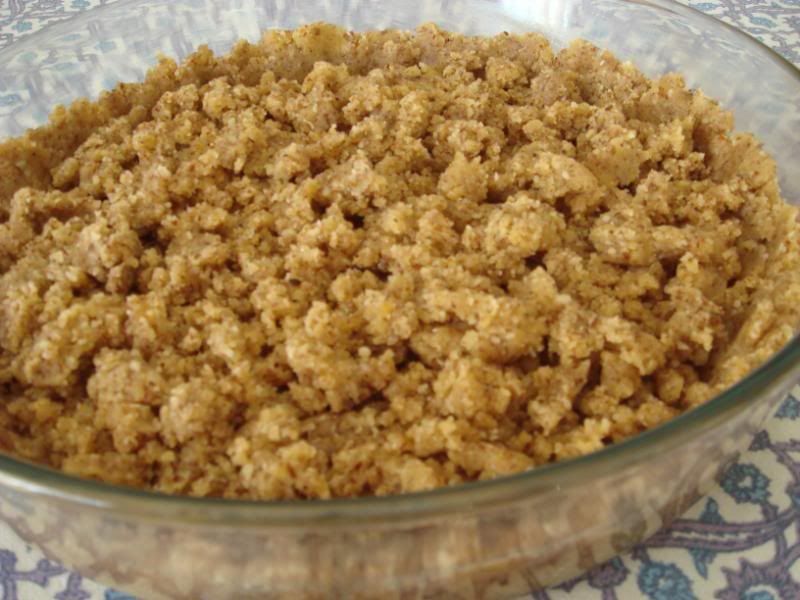 Pre-baked Base Crumbs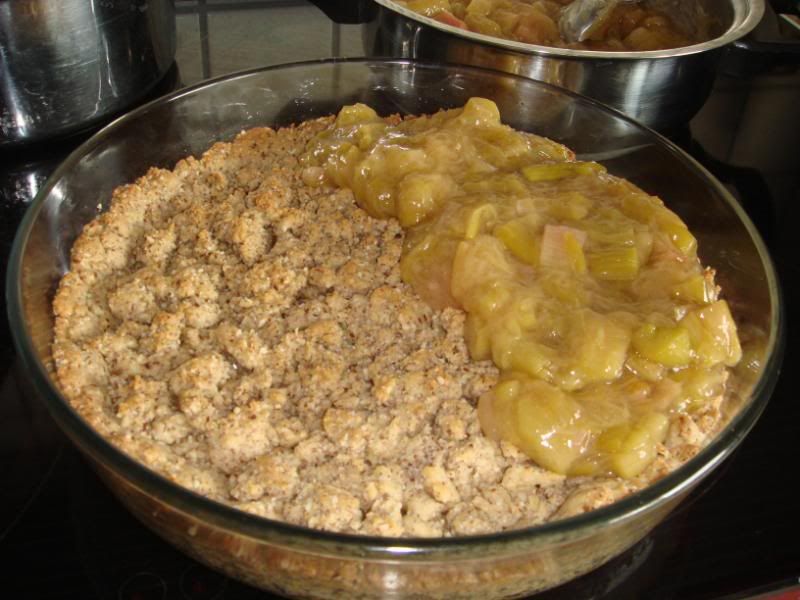 Spreading Rhubarb on Crumbs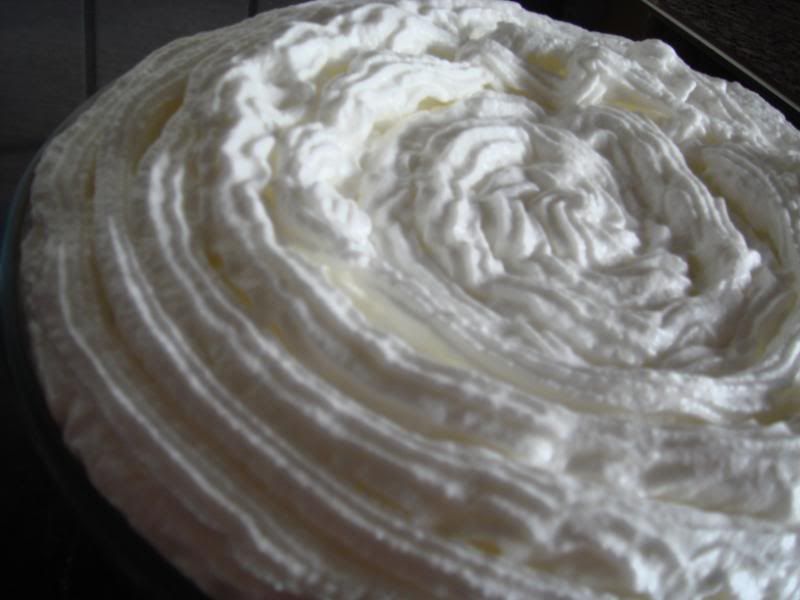 Readied Whipped Egg-White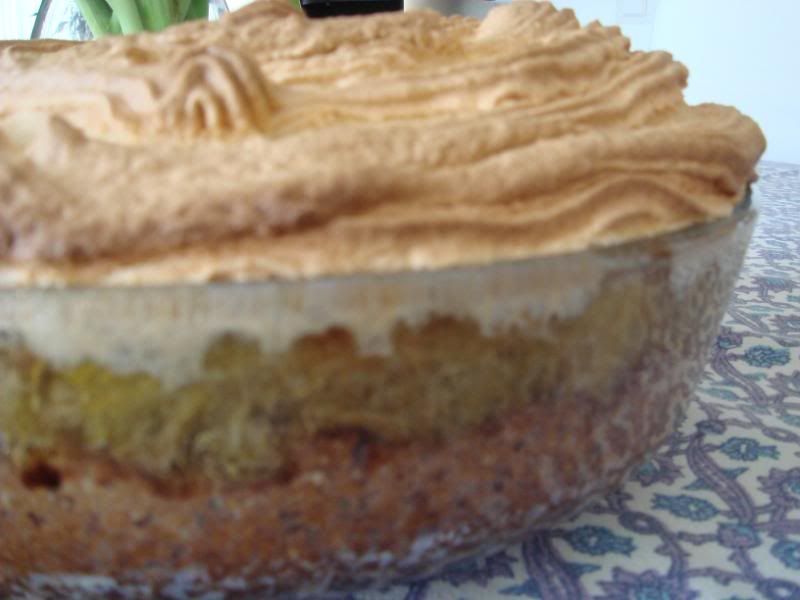 Luvly Layers
A Piece for You!
Winter. Not only nature, even homosapiens go into hibernation....active hibernation. Foggy days. Icy evenings. Freezing nights. Icy roads. No, No !! Nothing will make me go out.
Germans love to eat Rhubarb .....in various ways. Their favorite is named "Rhabarberkuchen". It's a crumb cake or tart made with rhubarb (though that's neither fruit nor vegetable). Rhubarb flourish very well in my garden. Probably because it is growing right beside my compost. I harvested lots last spring and froze them. Snipe away the huge leafs (they're fairly hairly). What's left are the stalks, thick as a thumb (or a big toe, at least) and arm long. Wait till next spring, then I'll post you some nice-nice rhubarb pictures!
Sour stuff, I tell ya! Don't try to eat them raw. In the past I've used rhubarb to pep up my Tom-Yum Soups when I ran out of lemons.
To cut a long story short: you peel the skin off the stalks, cut it into 1-2 inch long pieces, and then portion them into 500 gram bags for the freezer.
Last Saturday there was no more fresh fruits nor veggies in my fridge. Been hibernating since New Year, remember ? Opened up the freezer; out fell a bag with rhubarb. Been itching to bake something anyway, so rhubarb cake it will be!
One delicious rhubarb cake
Prepare the cake filling
1 kg frozen rhubarb
100 gm sugar
1 tbsp cornstarch
2 tbsp water
....cook! But how?
First defrost (can do over night).
Pour the juice (there will be enough after defrosting), and only the juice into a small sauce pan.
Add sugar.
Cook juice with sugar.
Once it's boiling, mix cornstarch with 2 tbsp of water.
Remove pan from heat. Add the cornstarch-water-mix to thicken juice.
Gently add in defrosted rhubarb pieces.
Do not cook again, and do not "over-mix". We want to keep the pieces, and don't want to turn it into mush.
Set aside and let it cool down.
Why the cornstarch? It prevents the later cake filling turning out too soggy.
Make the base
150 gm butter (don't use margarine)
100 gm flour
200 gm almond meal
a pinch of salt
4 egg-yolks
Simply mix-mix until you get crumb-crumbs.
Butter a cake-pan. Spread-spread the crumbs evenly over the pan and bake at 180° C for about 20 minutes. (Temperature adjustments may be needed with different ovens).
While base is baking, whip 4 egg-whites with 4 tbsp of sugar plus 1 tsp of vanilla essence (Germans will use 1 pack of "Vanillezucker").
Whip until very stiff.
Bring out dish from oven. Spread out rhubarb filling on top of baked crumbs. Spread or pipe the whipped egg-whites on top of rhubarb filling.
Place dish back to oven. Bake again. Use 120° C for another 20 minutes. Bake till the top of egg-white start to take colour light brown and become "Baiser".
Eat it whenever you can't curb your lust any longer. If you like, even if cake is still warm.